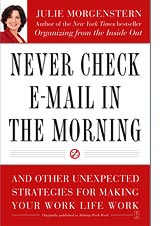 Never Check Email In The Morning
And Other Unexpected strategies for Making Your Work Life Work
The New York Times bestselling author, Oprah's favorite organizing expert, and America's number one problem solver presents a revolutionary book. It will help readers achieve the seemingly impossible: boost value and job security without sacrificing personal life. Morgenstern teaches innovative "grab and go" solutions that can be processed in as few as fifteen minutes to dramatically improve performance and efficiency, including:
| | |
| --- | --- |
| » | Beware of multitasking. Scattering your efforts makes for a longer day. |
| » | Dance near the revenue line. Making or saving money is where your greatest value lies. |
| » | Crunch your container. Shorten your workday by thirty minutes and you will get more done. |
| » | Trust your truth. Never undervalue your unique self, skills, and point of view. |
If you've ever wondered, Is it me or is it them? Julie Morgenstern's practical "inside out" approach will help you diagnose the source of each workplace problem and solve it quickly.

"Until you change the way you work at things, the things you work at will never change. Julie teaches how to change those things and become more energetic and efficient at work. This book is a must for anyone who loves to work."
~ Pat Riley, president, the Miami Heat
"Reading [Morgenstern's] book is time well spent."
~ USA Today
"Written in the same to-the-point approach as her Organizing from the Inside Out, this volume...makes a whole lot of sense [and] is practical and applicable to the real world."
~ Publishers Weekly